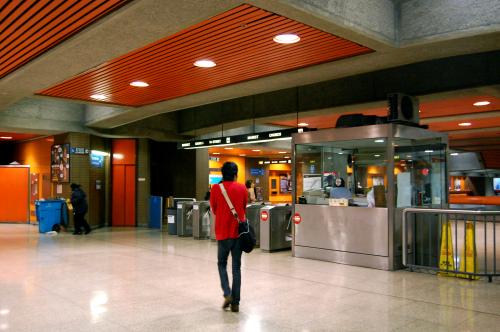 [Photo Credit: Colleen McHugh]
London opens bike superhighways: London sets a positive urban example by installing bicycle superhighways on the previously bike-unfriendly streets, in hopes of inciting a "cycling revolution."
Longtime denizens resist call to leave terminal: As most San Francisco residents welcome the arrival of a new Transbay Terminal, others are having more difficulty adjusting to the change-- specifically the homeless individuals who used to call the old terminal home.
German autobahn closed for gigantic party—one million cyclists celebrate: There was no driving on the Autobahn last Sunday when a section of the famous German expressway was closed to host a giant car-less party. An astonishing three million pedestrians and bikers showed up to reclaim the road.
Getting off oil: Forget hybrids and solar panels, we need active, exciting and vibrant cities: Does the key to greening our cities rest not on solar panels and electric vehicles, but instead on our ability to increase walkability in pre-existing urban areas?
BART's fare reduction off track: BART enters the 2010-11 fiscal year with a $4.5 million surplus -- a sum passengers hope will be spent on extended service hours, tighter security, and cleaner trains instead of temporary fare reductions.
Grandiose Nazi airport becomes a wild and free park in Berlin: A former German airport, once a testament to the country's rocky past, has blossomed into a no-frills, but nonetheless wildly successful park, with little more done to the vast space than a few X's painted onto the runway.
Innovation powers growth of small wind on urban rooftops: New innovations in the small wind industry are helping to bring wind power to urban settings, such as in New York City, where a small wind turbine resting atop an eight-story apartment building can supply the residents with all their power needs for their shared spaces.