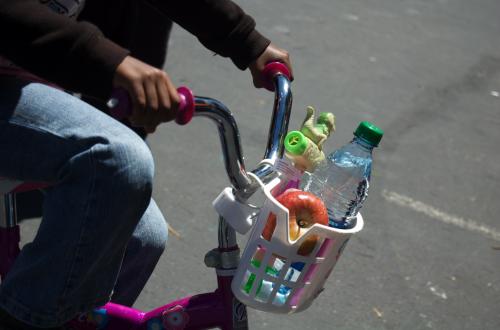 [Photo Credit: Colleen McHugh]
SFMOMA architects meet the public: The project of designing the $250 million SFMOMA extension to house the incoming Fisher Collection has been narrowed down to four eclectic finalists. In a short film, each architect discusses their individual hopes for the future of MOMA and their theories on what a museum should be.
Science city stores warm air from summer to heat buildings in winter: A Swiss University has found a way to heat its campus with virtually no carbon emissions. Their innovative method, which could have significant implications for city-scaled sustainability solutions, stores warm air from the summer, and uses it as a heat source during winter.
Will California achieve its anti-sprawl targets? California's anti-sprawl bill promises to bring about much needed change by requiring metropolitan planning organizations (MPOs) to invest in projects that promote sustainable land use, but will MPOs shift their investments away from destructive development in order for these changes to be realized?
Subway on the street: The Bx12 in NYC offers a glimpse into the bright future of bus transit, if buses are given a dramatic makeover. In this utopian, but not altogether unattainable future, passengers board in mere seconds, and buses glide through rush hour traffic with ease.
So-Cal seeks High Line West: With the recent success of New York's High Line, it's no surprise that LA is unveiling plans to build the West Coast version of the popular elevated park.