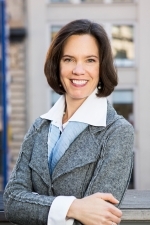 Media inquiries, SPUR policies and positions, fundraising and city-level decisions in San Jose
Leah is responsible for leading SPUR's San Jose office. A California native, she has seven years of experience in real estate development in the South Bay and parts of Northern California with Toeniskoetter Development, Inc. Prior to this role, Leah worked as: a financial analyst at Comerica Bank in Detroit and San Jose; a project associate with the Brazilian-American Chamber of Commerce in New York City; a translator of the Portuguese language in Sao Paolo, Brazil; and a micro-enterprise development volunteer with the United States Peace Corps in Bolivia, South America. She received her Bachelor of Science in science-business from the University of Notre Dame.
Among other community roles, Leah leads SPUR's Urban Catalyst Team, is a Rotarian in the Rotary Club of San Jose, serves as a board member of Peninsula Open Space Trust (POST), is an American Leadership Forum (ALF) Senior Fellow and is a member of the International Women's Forum (IWF) - Northern California chapter. Among other roles, Leah was a director and former chair of the Valley Medical Center (VMC) Foundation's board of directors, former chair of the Silicon Valley Rotaract Club and founded the TurningWheels for Kids Cycling Team. Her community awards include the Silicon Valley/San Jose Business Journal's Forty Under 40 list of emerging leaders in 2006, Top 100 Women of Influence in Silicon Valley in 2010, the San Jose/Silicon Valley Chamber of Commerce's Community Leadership Alumni of the Year, Association of Fundraising Professionals Silicon Valley's Outstanding Volunteer Fundraiser of the Year in 2011, and the Boy Scouts of America Silicon Valley Monterey Bay Council Character Award in 2015.