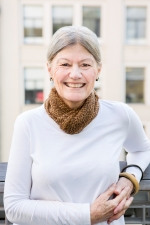 SPUR Urban Center Director
Diane Filippi is the director of the SPUR Urban Center. In this role, she has been responsible for the development of the Urban Center from inception through completion and grand opening. Her responsibilities have included site selection; architectural selection and process; expansion of programs; new partnerships and collaborations; and fundraising.
Prior to joining SPUR, Diane was a founder and Managing Principal of SMWM, an architectural and urban design firm in San Francisco. She is a chairperson of several organizations and institutions, including Urban Land Institute's San Francisco District Council, Rail-volution, Americans for Libraries Council in New York, San Francisco Friends of the Library, the Campaign to Keep Libraries Alive, State of California Friends Foundation in Sacramento. She is also on the board of the San Francisco Chamber of Commerce.