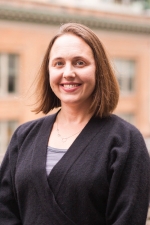 Amie Latterman
Development Director
General fundraising questions, including membership, planned giving, grants and event sponsorships
Staff Department:

Development
Amie Latterman is the contact for all fundraising questions, including individual membership, business membership, planned giving, grants and event sponsorships. Prior to joining SPUR, she worked as the outreach director for Child Family Health International, a social enterprise, nonprofit organization in San Francisco. In addition, Amie spent several years in the field of Japan-U.S. relations.
Amie's background is in fundraising, external communications, marketing and event planning. She has had extensive training in grant writing and individual donor cultivation techniques and is working with the team of development staff and board members at SPUR to build a wider and stronger base of supporters for the organization.
She earned her Bachelor's degree in political science (with a focus in East Asian politics) from Boston College. Amie was a founding board member of the national Young Nonprofit Professionals Network (YNPN), and spent several years on the advisory board of the San Francisco Bay Area chapter of YNPN.
Amie grew up in Irvine, California. In her free time she enjoys hiking with her family in the Bay Area hills, traveling and exploring San Francisco neighborhoods for great places to eat.